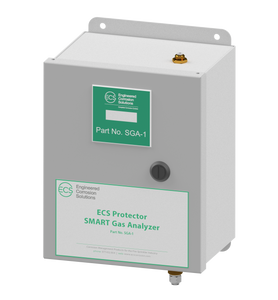 Monitor nitrogen gas production purity with the ECS Protector SMART Gas Analyzer.
The SGA-1 provides continuous monitoring of gas composition within the fire sprinkler system with multiple output signals available. Designed for use in dry pipe and preaction fire sprinkler systems that are maintained with supervisory nitrogen gas, it notifies the user if the nitrogen generator is performing outside of manufacturer specifications. An ECS Protector Dry Vent (PAV-D) or an ECS Protector SMART Vent (PSV-D) is required to be paired with the SGA to provide a continuous gas analyzer sample source.
For use under U.S. Patents 9,144,700 and 9,186,533.
120VAC or 24V DC power requirement
Output signals available: 0-5V DC, 0-10V DC, 4-20 mA, and contact closure
Can be monitored by building information/management system or fire alarm system
Connects to oxygen removal vent with 5/32″ tubing (provided by ECS)
8" x 6" x 10" (W x D x H), 12 lbs
Continuous Gas Analyzer Resources
SGA-1 Spec Sheet
SGA-1 CAD File