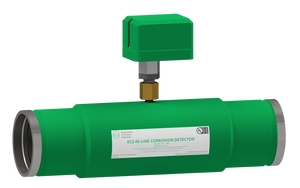 Whether dealing with new or existing fire sprinkler systems, your corrosion management system deserves the most advanced corrosion monitoring device available, the ECS In-Line Corrosion Detector.
Recipient of the NACE 2017 Corrosion Innovation of the Year Award, the ECS In-Line Corrosion Detector is designed to provide an early warning indication that the corrosion rate within system piping is at an unacceptable level. The ILD is designed for corrosion detection in both wet pipe and dry pipe sprinkler systems and installed within sprinkler system piping where corrosion is expected to be the worst.
Rather than simulating corrosion with removable coupons, the unique design offers an externally milled section covered by a welded sleeve to create a monitored pressure chamber. The thin-wall section provides a premature point of failure within the sprinkler system to provide early notification of metal loss.
Downloads
IN-LINE CORROSION DETECTOR U.S. PATENT
The In-Line Corrosion Detector is the only UL-Listed corrosion monitoring device for fire sprinkler systems and is covered under U.S. Patent No. 9,095,736.
Legacy Products